Aging Gracefully When Your Older Loved One Is Incontinent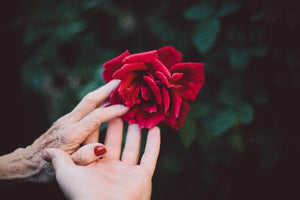 We'd all like to age gracefully, but that grace depends on a lot more than we may originally consider -- and a lot that's beyond our control. As the 75 million American baby boomers age into retirement, many will be caring for aging parents (if they aren't already). That's why more conversations about some of the less-than-graceful realities of later life must happen -- at home, among friends, and in the community.
Incontinence is one of these often undiscussed realities, and it affects 50 percent of older adults (ages 61+). And it's not just a challenge to those living with it, it's a challenge to the people caring for someone who can no longer maintain their own incontinence needs. It requires a change of lifestyle and a new level of dependence for the older adult, and a steep learning curve for the caregiver.
Facing the challenges of incontinence can quickly become overwhelming. It shifts the nature of relationships, changing sons, daughters, spouses, grandchildren, neighbors, and friends into caregivers; it crosses boundaries of privacy and comfort, and pushes the definition of care.
When looking for the best incontinence products, it seems caregivers have more details to consider than they have time in a day: What is the most effective product?" What can I afford?" What company is aligned with my values, concerns, needs? Finding time to shop for adult diapers is a challenge too. 
When you only want the best for Mom, Egosan has your caregiver concerns covered. Their innovative products and Italian design puts the comfort and protection of your loved ones first. Egosan's adult diapers are environment-friendly and caregiver-friendly, with different styles for the diverse needs and abilities of every consumer. And perhaps the best part for caregivers? You can order them online and they're shipped right to your or your loved one's home or care community. 
Caregiving is a job that requires energy, generosity, and a little bit of grace all its own. Investing in a product to lighten the worries of the day-to-day needs of a loved one is an investment worth making. Aging gracefully is not easy, but when done right, it makes all the difference. Shop online now.
FROM NOW UNTIL AUGUST 31st: Get $5 off your purchase of our Egosan Maxi medium and large sizes, as well as the Super XLs and up!
Leave a comment
Comments will be approved before showing up.
---
Also in News
John T maternal grandfather and uncle both had prostate cancer so when John first started experiencing even minor dribbling of around the age of 40. As long as his PSA remained low, he and his doctor just kept an eye on the situation. Eventually, though, his symptoms grew serious enough that he saw a urologist.