5 Practical Ways to Help An Older Loved One Who Lives Far Away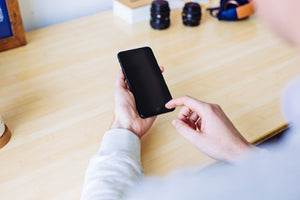 We tend to think of caregiving as hands-on only: giving Mom her pills for the day, helping Dad in the bathroom, giving Granddad a shave once a week. And while these hands-on tasks are certainly an integral part of the caregiving grind, there are dozens of other tasks related to a person's care that are less visible, but with results that are equally tangible and necessary. And: they can be done from afar.
According to research from the National Institute on Aging, nearly 7 million Americans are long-distance caregivers. If you're among those 7 million and wondering what you can do to help Dad when you live 100, 1000, or 10,000 miles away, here are 5 practical ideas:
Set up transportation. Services like Uber and Lyft are growing in popularity every day. Why not set up a route for Mom's weekly hair appointments to take the pressure off your older sister, who's been juggling Mom's transportation needs with her own family's demands? From doctor's appointments to grocery store runs and everything in between, setting up transportation -- whether through a private service like Lyft or a public one like the local/county-based paratransit -- can now be easily done from a computer or cell phone anywhere.


Help with grocery shopping.

Can't bring a meal or groceries to Dad after his surgery? Know Mom is struggling with cooking for just 1 person after decades of cooking for a larger family? 

InstaCart. Peapod. Blue Apron. Amazon. Meals on Wheels. From ready-to-go meals to grocery delivery, take advantage of the ability to automate this necessary but time-consuming routine through the variety of services, apps, and local resources now available.
 
Order supplies. Save your brother the midnight Walmart trips to get adult diapers when Dad runs out unexpectedly. Many medical/caregiving-related supplies can now be purchased online, in case form -- and with recurring shipments as a delivery option. Take the lead on this task, and you may even find discounts available to customers who need recurring deliveries.


Communicate with providers. There's no reason you can't be the point person for medical records, appointments, updates, and more. Email, Skype, text, phone, e-portal: today's technology makes it easier to communicate with health care providers anytime, anywhere.


Check in regularly for emotional support. For the family member who lives locally and is doing the daily grind, hands-on stuff mentioned earlier, remembering to check in with Mom or Dad simply to "see how they're feeling" can be a challenge. But it's no less important: the changes related to aging (incontinence, grief, isolation, depression, loss of balance or mobility, memory loss, etc.) are hard to deal with. Being that compassionate voice on the other end of the phone once a week is a form of caregiving support whose value should not be underestimated. 
Caring for someone with incontinence every day? Shop the caregiver's choice for incontinence 24/7.
Leave a comment
Comments will be approved before showing up.
---
Also in News
John T maternal grandfather and uncle both had prostate cancer so when John first started experiencing even minor dribbling of around the age of 40. As long as his PSA remained low, he and his doctor just kept an eye on the situation. Eventually, though, his symptoms grew serious enough that he saw a urologist.