New to Caregiving: How Do I Keep from Going Under?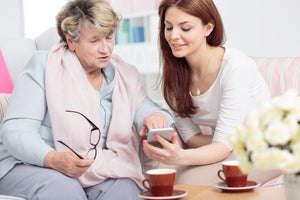 Dear Carol: My parents are in their 70s and had been mostly healthy. I don't have to worry about financial and health legal documents because they are in place. What's hard is that my siblings are scattered so I'm "it" for local caregiving. I think that I've been in denial because my parents were independent and healthy for so long, but Dad had a stroke last month, and reality has hit. He's back home and we're thrilled about that, but his increased needs are taking a toll on Mom. Both of them are still independent-minded, but Dad is having trouble with mobility as well as incontinence. So, now I'm struggling to figure out how much help I should offer and how I can avoid fussing over them and offending them. I'm also worried about how I can continue to be attentive to my own grown kids, my grandchild, and of course, my husband if I'm caught up in regular caregiving for my parents. What I'm saying is that while I definitely want to help them, I feel like I could get in over my head. Can you give me some guidance? – NC
Dear NC: The idea that our parents, who were our anchors in life, becoming dependent on us can be frightening, so your reaction is understandable. You're fortunate that your parents have been proactive about their legal work since that part is vital. Even with the legal work in place, though, you are looking at their ever-increasing needs, so it's good that you're trying to work out a road map about how this could work for all of you.
Your husband, children, and grandchild are as important as your parents, so you'll need to be aware of times when you could be neglecting them due to attending to your parents' needs. That's okay in emergencies since everyone has to give in these cases, but not for the long term. Caregiving nearly always involves juggling different roles. 
These tips might help you manage your upcoming role:
Remember that while you are stepping into the caregiver role out of love and/or duty, doing so will eventually become another job. The sooner you see this, the less likely it will be that you will burn out early. Caregiving is most likely going to be a marathon rather than a sprint, so you must pace yourself if you are to stay the course.
The less obvious part is what I call "creep up." That is what happened to me both in the number of people who needed help as well as each person's increasing needs. In "creep up," you handle the little things, and it's not a huge deal. You add a little more and manage a crisis or two. Okay, you did it. Then, well, your parents need more care yet, and you step up. See what I mean? This all builds while you've hardly had time to realize what's happening. So, be aware. While things are still manageable but growing, start thinking about in-home caregivers or assisted living as options so that you can still be your parents' caregiver, but you can also tend to your other loved ones' needs as well as your own health.
Don't let all of this planning make you inflexible because that will only set you up to feel like a failure when you don't meet your own expectations. Fine-tune your boundaries so that when needed you can move them a little, but don't make them too weak, either. Just know that caregiving is never static, so you'll be making new decisions every day. Seek to balance your roles so that everyone has some care, and that includes you.
Establish priorities so that you know when moving a boundary is something that you are doing for a good reason. This includes deciding what you can do when caregiving gets to the uncomfortable things such as helping with your dad's incontinence in the future, should he need assistance.
Make a plan with your parents that includes an idea of when they should consider full-time in-home care, assisted living, or even a nursing home.
Your local Area on Agency on Aging can be a big help in pointing you in the right direction for guidance that fits in with your state's laws. Search out N4A.org and type in your parents' Zip code to find your local branch of this agency. Like with most caregiving needs, some states are better than others, but give it a try.
Join a local caregiver support group or find one online. An excellent free group can be found on agingcare.com. A superb group led by a geriatrician and providing access to geriatric care managers for a small monthly fee can be accessed through BetterHealthWhileAging.net.
With incontinence, you'll likely find that premium products like those sold by Egosan, will save your mom, and potentially you, both work and money in the end.
  ***
Discover the Difference. EGOSAN - the Top-Rated incontinence brand from Italy. Now Available on Amazon. 
Leave a comment
Comments will be approved before showing up.
---
Also in News
John T maternal grandfather and uncle both had prostate cancer so when John first started experiencing even minor dribbling of around the age of 40. As long as his PSA remained low, he and his doctor just kept an eye on the situation. Eventually, though, his symptoms grew serious enough that he saw a urologist.