Gregory Struggles to Accept Double Incontinence as His Muscular Dystrophy Progresses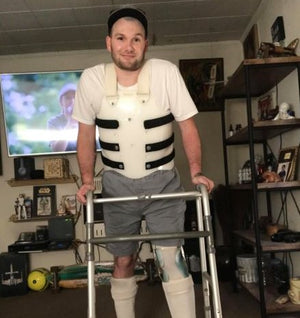 Incontinence represents a disability on its own but it's also a complication that affects the quality of life for people who live with even more difficult health challenges. Gregory Hayes, who generously shares his story below, illustrates how incontinence has made his life with progressing muscular dystrophy harder, both physically and emotionally. Much of the emotional pain is due to the social stigma attached to incontinence.
Let's let Gregory tell his story:
My name's Gregory Hayes. I've been bladder incontinent for a few years now, and bowel incontinent for a little over a year. My story starts out when I was in 2nd grade and had excruciating pain in my legs and was diagnosed with having peripheral neuropathy. Then, in my late 20's, I was having problems with the muscles in my legs and was diagnosed with a form of muscular dystrophy for which I now have to wear leg braces and use a walker.
Continue reading below product list:
When I was younger, I enjoyed riding dirt bikes and fishing, and as a young adult, I used to work for myself doing bathroom and kitchen renovations. I have a small business doing home remodeling.
My family's been supportive of my incontinence and worsening MD for the most part, but my girlfriend at the time moved out because it was just too much for her. I understand because it can't be easy being in a relationship with someone that has the health issues I do.
I'm now 36 years old and I'm trying to adapt to this new way of living, but I'm still self-conscious. I'm always worried when I'm out in public if people will notice I have a diaper on. Then there's everything that comes with having to wear diapers. No matter how much I prep before going anywhere, accidents still happen and there's nothing more humiliating than having a bowel accident while grocery shopping or at a store. 
Incontinence has hands down been the most difficult to manage and accept by far, even harder than my leg braces and walker.
Not having the ability to change myself after an accident has been very difficult, too. It's hard not to feel ashamed. I still apologize to my caregiver when I have a bowel accident. Even though it's out of my control I still can't help but feel bad about it.
At first, I despised having to wear diapers. Now they give me a sense of security which I am grateful for. When you first start having incontinence issues the stress that comes with finding what products work best for your needs can be overwhelming. You just feel lost because who do you ask about advice on adult diapers and other incontinence products?
During our conversations, Gregory mentioned that it's hard to feel like a man considering his situation. Here are his words:
Since becoming incontinent and being in diapers 24/7 I almost don't feel like a man. It's hard to explain but having to wear diapers, I just don't feel the same as I used to.
I responded by telling him that this isn't an unusual feeling for people who are incontinent, especially younger people. This goes to the ingrained stigma that Egosan is fighting against. One thing that I didn't mention is that in Matt's story readers can see how some partners may leave you shouldn't give up hope. Matt's now been happily married for a decade.
Discover the Difference. EGOSAN - the Top-Rated incontinence brand from Italy. Now Available on Amazon. 
Leave a comment
Comments will be approved before showing up.
---
Also in News
John T maternal grandfather and uncle both had prostate cancer so when John first started experiencing even minor dribbling of around the age of 40. As long as his PSA remained low, he and his doctor just kept an eye on the situation. Eventually, though, his symptoms grew serious enough that he saw a urologist.